What Is Cement?
Cement is the key ingredient of any type of construction. It acts as a binder due to the adhesion and cohesion properties. Cement provides excellent bond strength to the concrete. Sufficient rigidity to the structure is the resultant of the Cement, which is mixed with filler materials like sand, fine aggregates, coarse aggregates and sufficient water.
In the construction industry, there are various types of cement. It varies from each other by its different properties, uses & benefits. Different construction works needs different types of cement: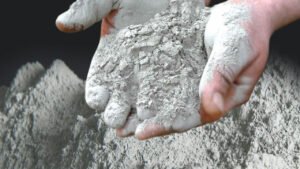 Chemical Composition of Cement:
Lime (CaO) – 60 to 67 %

Silica (SiO2) – 17 to 25 %

Alumina (Al2O3) – 3 to 8 %

Magnesia (MgO) – 0.1 to 4 %

Iron Oxide – 0.5 to 6 %

Sulphur Trioxide (SO3) – 1 to 3 %

Alkalies (Soda and Potash) – 0.5 to 1%
Types of Cement:
Cement can be divided into two categories
Hydraulic cement.
Non-hydraulic cement.
Hydraulic Cement:
Hydraulic Cement sets very quickly and hardens with the addition of water and form water-resisting products. . This type of cement on reacting with water commences the hydration reaction. Hydration reaction is the process through which the cement mixture gains its strength by forming various compounds with the evolution of heat. Due to its property Hydraulic cement can successfully be used inside the water for marine structures, water retaining structures, etc. Among many types of cement we will discuss only 10 types of hydraulic cement in this article below.
Ordinary Portland cement (OPC),

Portland Pozzolana cement (PPC),

Rapid hardening cement,

Extra Rapid hardening cement,

Quick setting cement,

Sulphate resisting cement,

Low heat cement,

Oil well cement,

Blast furnace slag cement,

White cement
Non-Hydraulic Cement:
Non-Hydraulic cement is derived from the calcinations of gypsum and calcium carbonates. The example of non-hydraulic cement is slaked lime. These types of cement don't harden on reacting with water but by coming in contact with carbon dioxide. Now the Carbon dioxide commences the carbonation reaction which sets the cement. 
We cannot use this type of cement with water or underwater. This type of cement is the weaker type. The long setting periods is another disadvantage for not being used in frequent construction work. It's used for brick and mortar use, and stonework. Mostly it is used indoors as it needs dry conditions to achieve its best structural strength. Due to the long drying period, non-hydraulic cement has taken a back seat.
Types of Hydraulic Cement:
Ordinary Portland Cement (OPC) Ordinary Portland Cement also known as OPC is a type of cement that is made by pulverizing calcium silicate clinkers, calcium sulphates, and limestones at high temperatures. This type of cement is used worldwide. The different grades of Ordinary Portland cement are 33, 43, and 53 grades. The OPC can be stored for 3 months in a cool and dry place.  Ordinary Portland cement is used to manufacture grout, wall putty, Plastering, solid concrete blocks like beams, columns, slabs, footings, AAC blocks, Culverts and massive structures and mass construction. 
Portland Pozzolana Cement (PPC)
To prepare PPC or Portland Pozzolana cement, you need to grind pozzolanic clinkers, gypsum and fly ash. Fly ash is a waste product from thermal power plants. Fly ash increases the strength of the cement and reduces air pollution. The best part is that the PPC cement can be stored for 3 months in a cool and dry place.
Among the few advantages of this type of cement is it increases fineness & durability and decreases permeability. It has high resistance to different chemical assaults on concrete and corrosion of reinforcements.
 It is used in all normal construction activities, massive construction, water retaining structures, foundations and marine and hydraulic structures.
Rapid Hardening Cement
Rapid hardening cement (RHC) also called High early strength Portland cement. The composition of this type of cement accelerates the hydration reaction which gains the rapid strength of the cement. Due to the chemical combinations it gains strength in three days. Proper actions need to be taken to reduce the shrinkage cracks that may occur due to the high heat of hydration. 
It is commonly used in rapid constructions like the construction pavement, road construction and repair works, precast constructions.   
Extra Rapid Hardening Cement
Extra rapid hardening cement is an enhanced version of the Rapid hardening cement which gains strength quicker, as the name suggests. It is obtained by adding calcium chloride into the cement which accelerates the hydration process. 
Since these types of cement sets fast, it is widely used in cold weather concreting. It is about 25% faster than the rapid hardening cement by one or two days. It can be stored for a period of 1 month only after which it may lose its properties and become unusable.
It is used in Cold weather concreting, precast construction.
Quick Setting Cement:
Quick setting cement has a quicker setting action. The setting action of Quick setting cement starts within 5 minutes as it becomes stone-hard in less than an hour. The proportion of gypsum is reduced in this formula. Due to the increased sulphate content, the sulphate attack is elevated proportionally. It is very expensive and demands great care while placing the concrete.
These types of cement are used for constructions which need quick setting, like in cold and rainy weather conditions and underwater structures. It has high resistance towards the water and it requires less amount of water during hydration.Quick setting cement is used in underwater constructions, Rainy regions and Repair works.
Sulfates Resisting Cement
Sulphate Resistant Cement (SRC) is blended cement designed to prevent the impact of sulphate attacks. It has a lower percentage of Tricalcium aluminate. It ensures that the concrete remains durable throughout its lifespan. SRC reduces the risk of deterioration of the structure due to its durability for concrete.
Sulphate resisting Cement has the property of resistance to mineralized water containing sulphates. It is mainly used in underwater construction, bridge piers etc. 
Low Heat Cement
Low Heat Cement is specially blended cement, which provides a lower heat of hydration in concrete. The percentage of Tricalcium Aluminate below 6% makes the concrete low heat of hydration. This unique attribute reduces the risk of thermal cracking where the rate of temperature rises and the maximum temperature achieved.
Low heat cement suitable for mass concrete construction like high gravity dams. It is less reactive and the initial setting time is greater than OPC. 
Blast Furnace Slag Cement
Blast furnace slag cement is the mixture of ordinary Portland cement and fine granulated blast furnace slag obtained by grinding the clinkers. They have lower permeability and improved durability. Slag cement generally costs less than ordinary Portland cement.
It can be used for works where economic considerations are important. The use of slag cement has shown long-term performance.
High Alumina Cement
High Alumina Cement (HAC), sometimes known as calcium aluminate cement (CAC) or aluminous cement which is made up of calcium aluminates. It is manufactured from limestone or chalk, bauxite (Special clay having extremely high alumina content) and grinding with the clinker. It is rapid stiffening cement with initial setting time of about 3.5 and final setting time of about 5 hours.
Due to the property of rapid hardening and compressive strength, the cement is widely used in marine construction and sewer infrastructure. High alumina cement requires more strength at very high temperatures for refractory concrete.
This type of cement is mostly used in works where the concrete is subjected to high temperatures, frost, and acidic action. The most common uses are in constructions that are subject to high temperatures like a workshop, refractory, and foundries. 
White Cement
As the name suggests, it is white in color. This cement is manufactured by using raw materials that are free from Iron oxide. It is a type of Ordinary Portland Cement but it is more expensive. 
White cement needs to have lime and clay in a higher proportion. White cement is used for architectural purposes like curtain walls and facing panels etc.  This is also used for interior and exterior decorative work like paths of gardens, swimming pools, facing slabs, floorings, ornamental concrete products etc.
The Bottom Line
At the end we can conclude that depending on your construction type, you need to choose the correct one which is suitable. Since Cement is a cover material you need to choose it intelligently and diligently.